Use case: exploring the power of carpooling in universities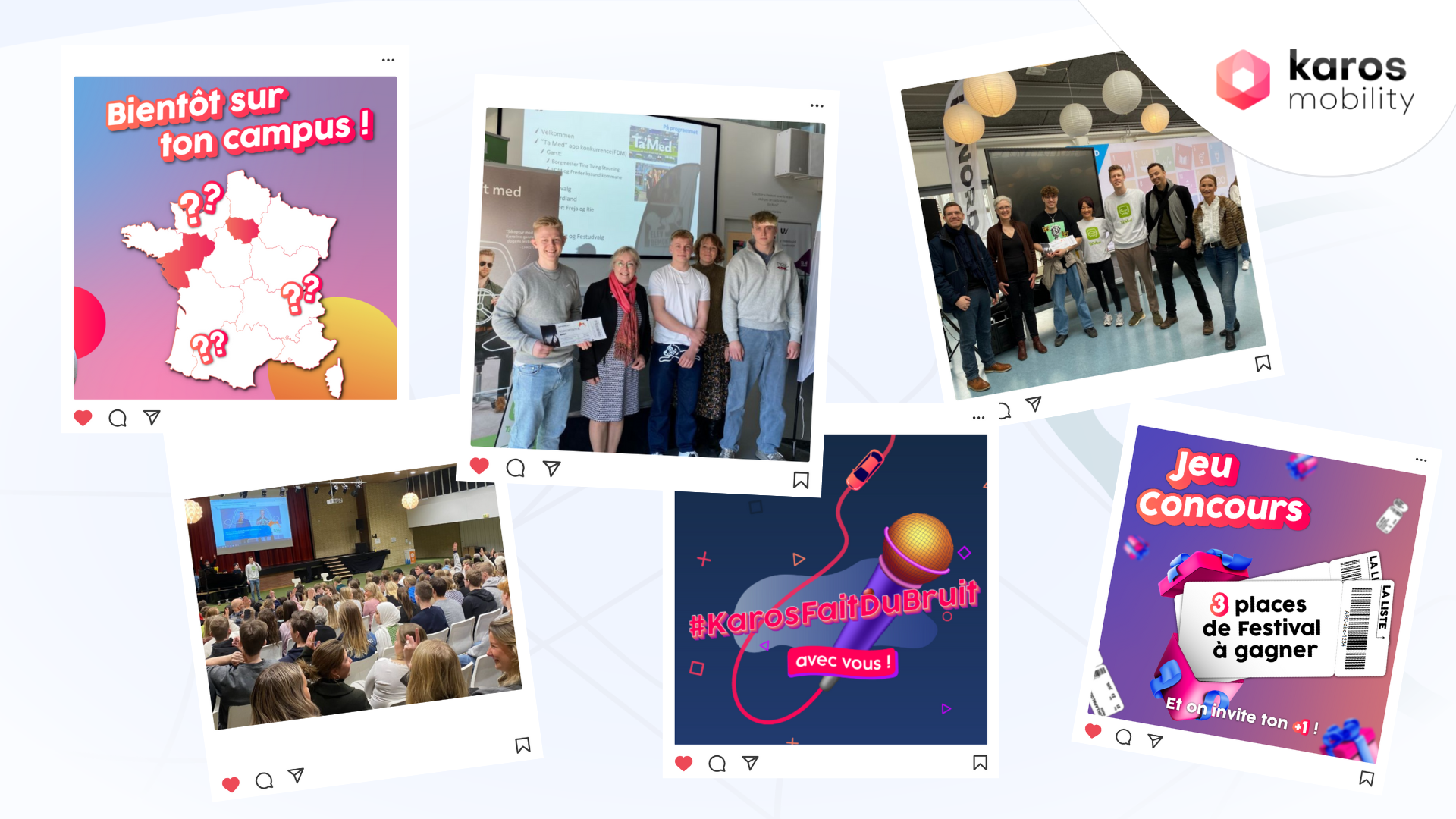 Daily transport expenses continue to be a significant worry for nearly one-third of individuals aged 18 to 30, ranking as the third largest monthly expenditure on average. This concern is particularly pronounced among students who often face tight budgets and must make compromises to manage their daily living expenses.
But there are cost-effective solutions that could reduce the problems associated with student mobility, as they travel to the same geographical areas and can easily explore new transport options using apps without hesitation. By adopting carpooling, students can save time, reduce transport costs and environmental impact, and foster a sense of community among peers.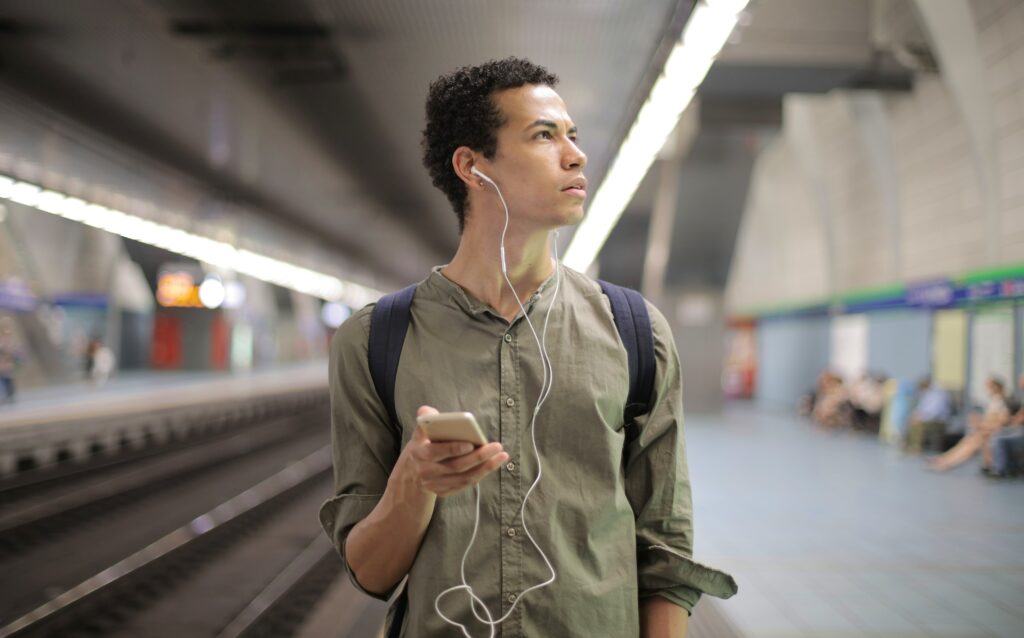 Karos Mobility has devised a tailored solution to cater to the transportation needs of students. Through our application, students can seamlessly connect with fellow carpoolers within their campus community, enjoying reduced costs, particularly in regions where Karos Mobility operates as a partner.

Presently, over a hundred universities and private schools across three countries have opted to provide their students with the convenience of carpooling using Karos Mobility applications. The outcomes achieved by some of these institutions have been promising, as illustrated below: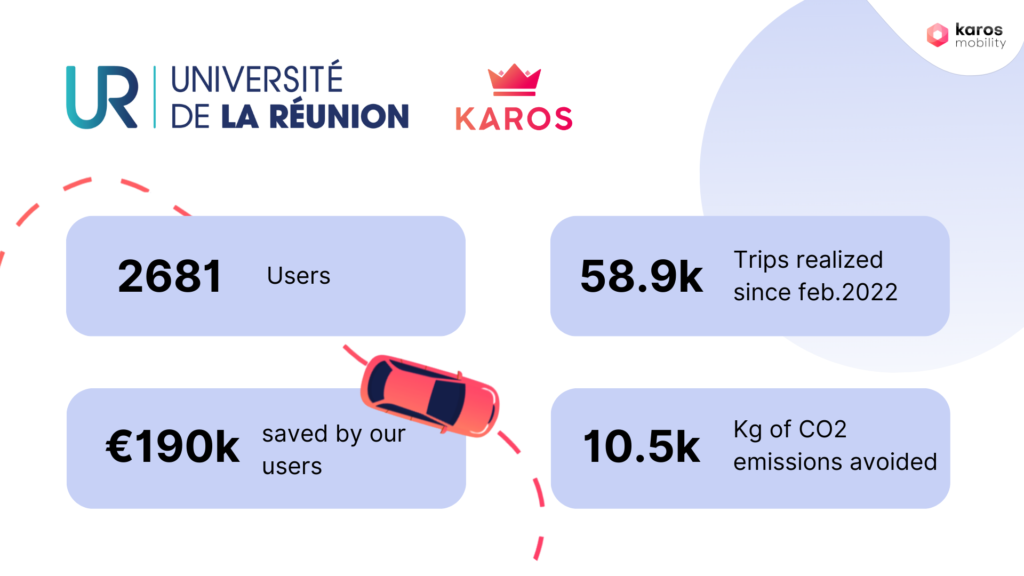 Troyes University of Technology (UTT)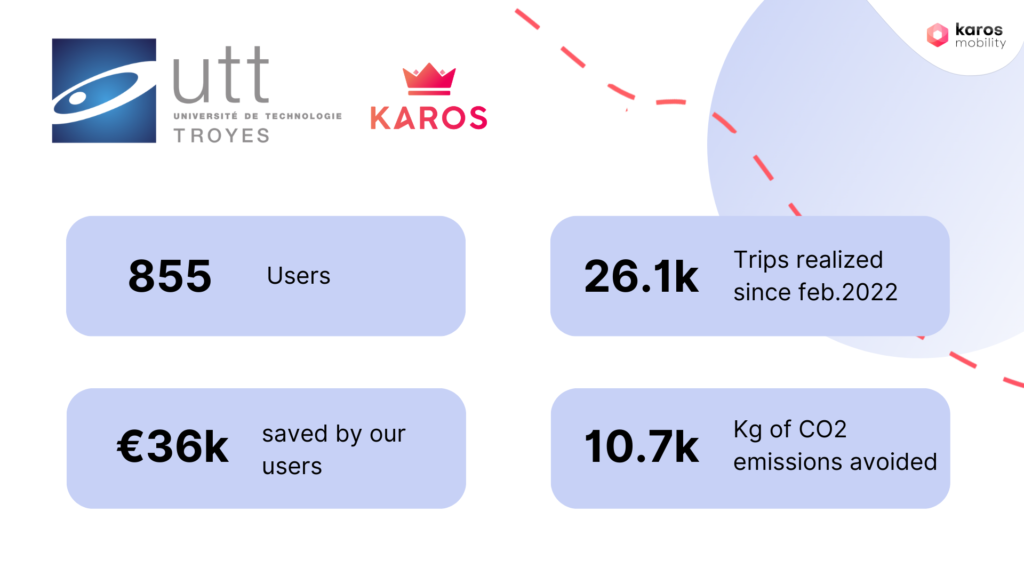 Belfort-Montbelliard University of Technology (UTBM)
Several municipalities and regions are taking additional steps to facilitate daily transportation for young individuals. One notable example is the municipality of Hillerod in Denmark, which has taken the initiative to fully finance carpooling services for students in the area.
In a similar vein, numerous local authorities in France and Germany have integrated carpooling into their transportation passes, enabling students to avail themselves of carpooling services "free of charge." By incorporating carpooling as a viable and accessible option, these initiatives not only support students in their daily commute but also contribute to reducing traffic congestion and promoting environmental sustainability.
These innovative measures demonstrate a growing recognition among municipalities and regions of the importance of promoting sustainable mobility options for young people. By incentivizing and facilitating carpooling, local authorities are actively addressing transportation challenges faced by students while fostering a culture of shared and eco-conscious transportation practices.
Karos' expertise in supporting partner universities
To foster vibrant carpooling communities in secondary schools, the dedicated teams at Karos Mobility collaborate with school representatives to organize engaging activities and events that encourage new students to try the app. These initiatives include pizza or breakfast on site promotions, after-work gatherings, and informative conferences.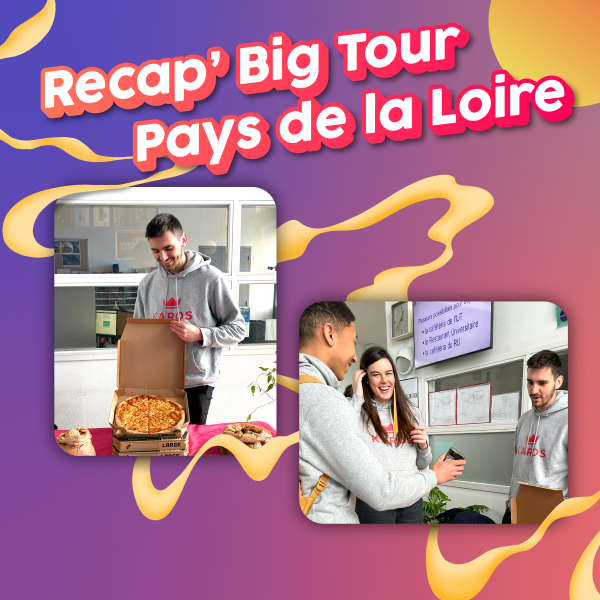 Tour of campuses in the Pays de la Loire region of France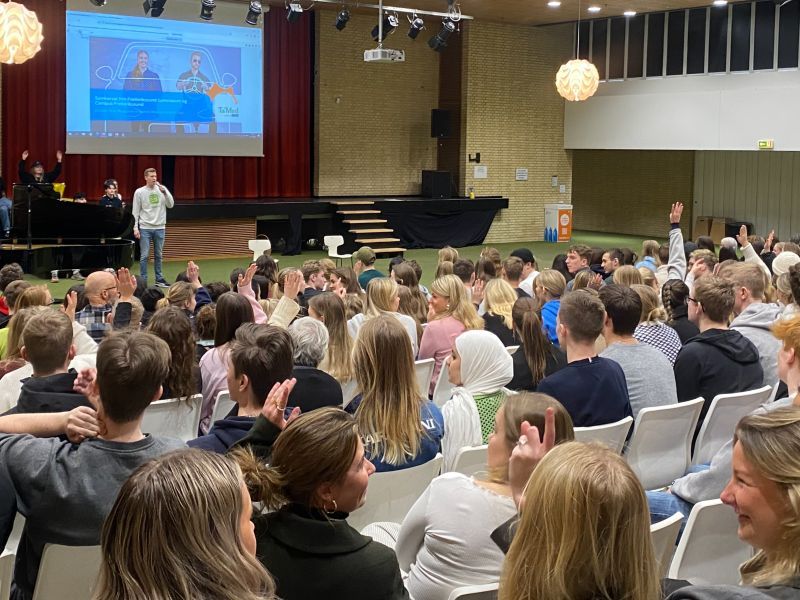 Talk given at a university in Frederikssund, Denmark
Additionally to launching carpooling, and in order to meet the expectations of our partners and enhance the carpooling experience, the school year is filled with exciting games and competitions conducted through social networks or on campus. These activities range from campus wars, where different partner campuses compete, to competitions offering festival tickets or grand prizes. We even have fun-filled weeks and karaoke carpools!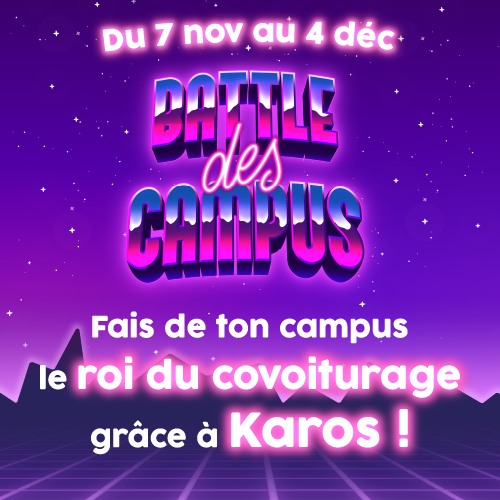 Partner campus battle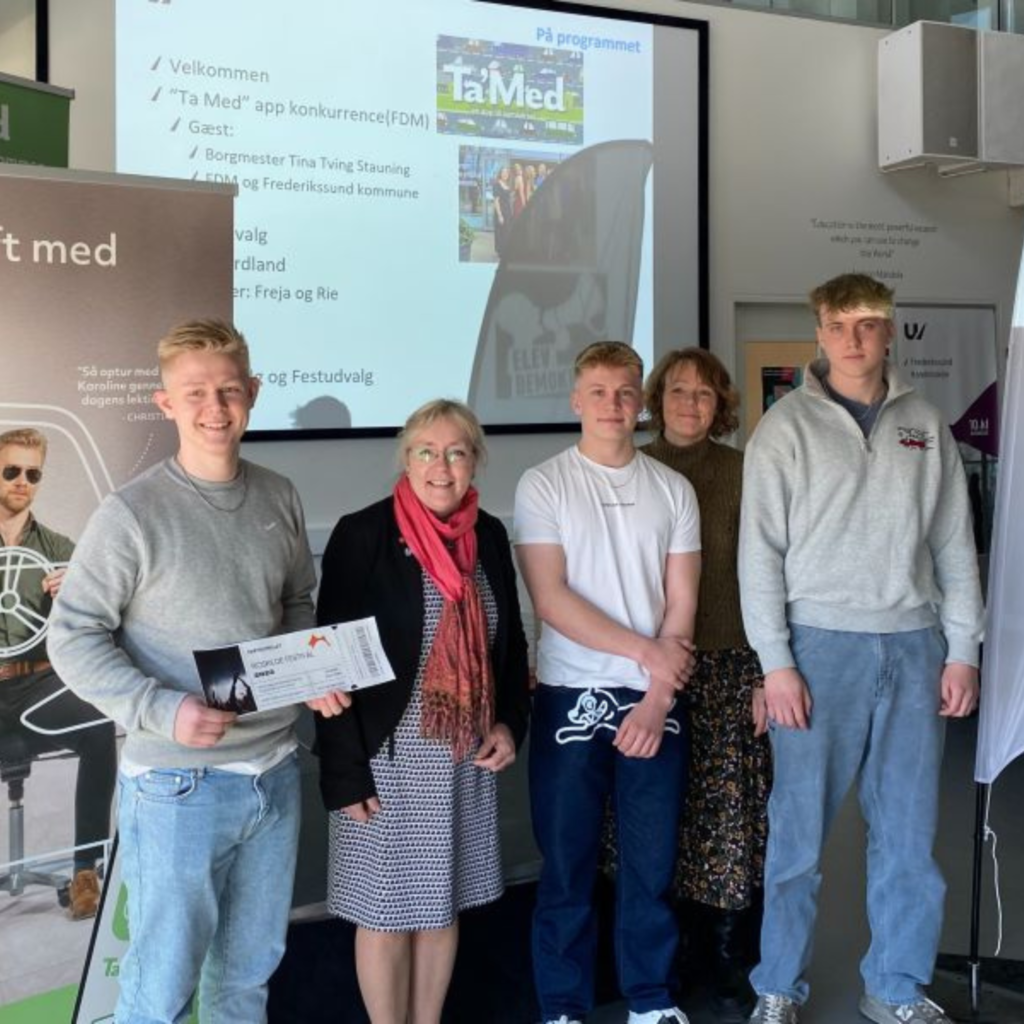 Campus Frederikssund carpooling competition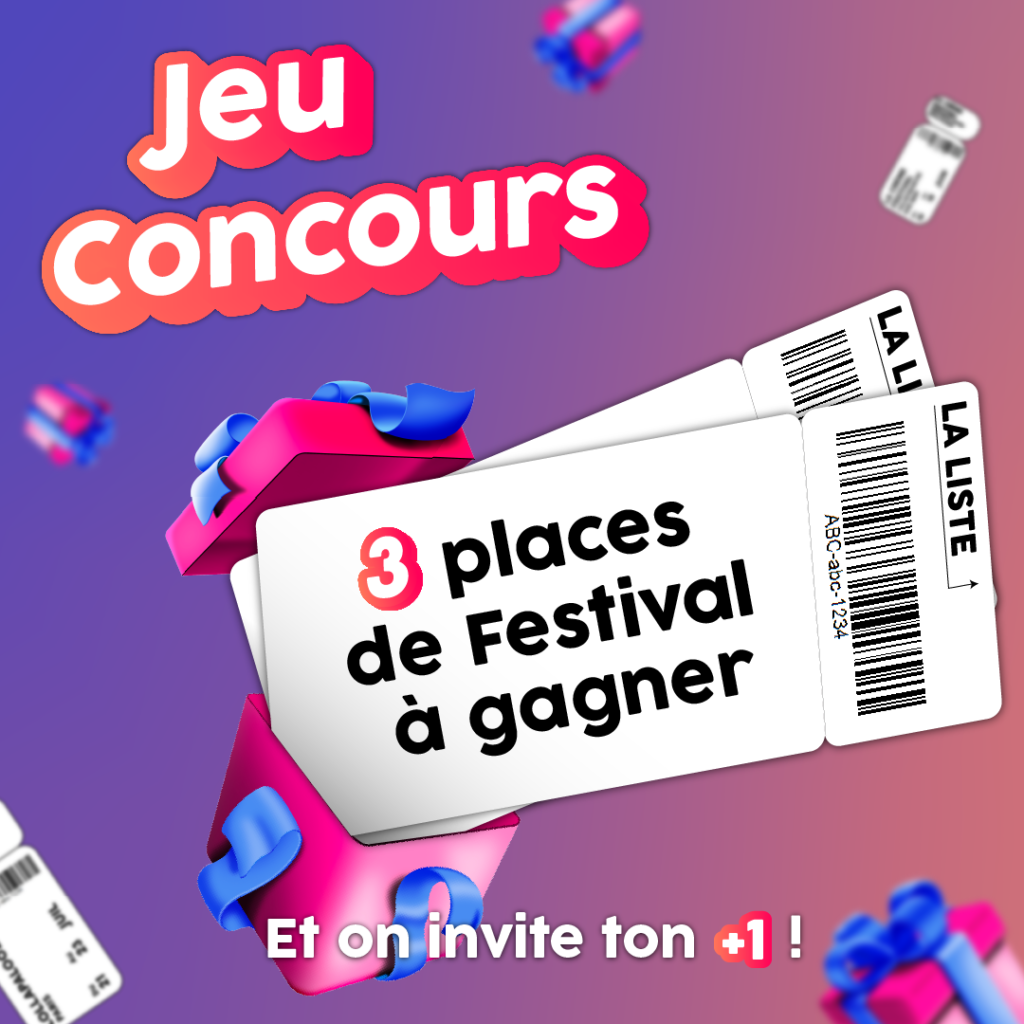 Instagram competition to win Festival tickets
Our campuses offer endless possibilities for both physical and virtual events, and we continuously collaborate with our partners to develop the most suitable events!